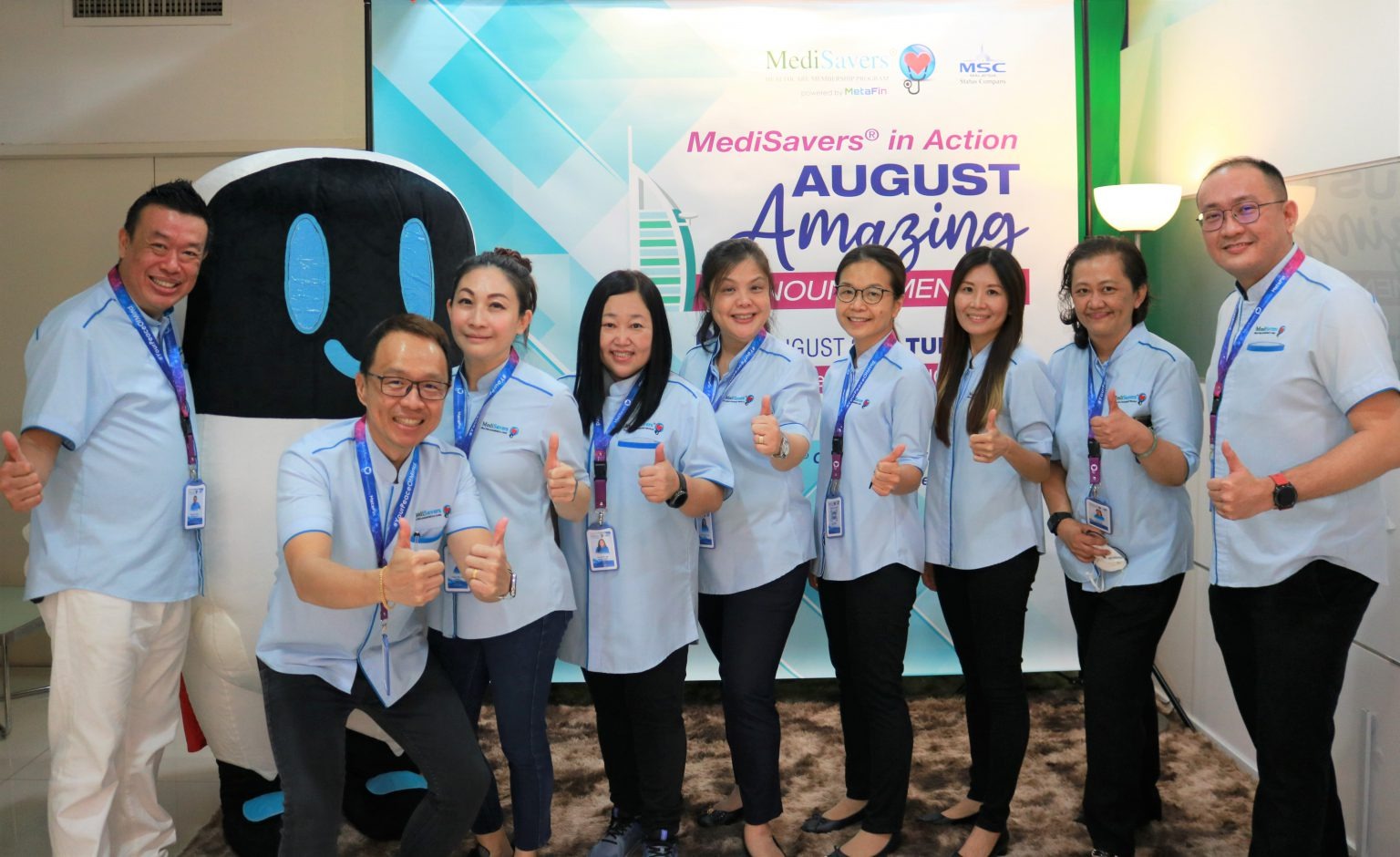 Petaling Jaya, August 9 – This month brings an exciting series of announcements at the MediSavers HQ at Level 8. The event saw in attendance members of the National Kidney Foundation (NKF) who were cordially invited by MXM International Sdn. Bhd. The August Amazing Announcements event was also witnessed by the board members of MXM International and our invited Medical Advisors and respective attendees asked to complete a registration form via a QR code upon arrival at the event.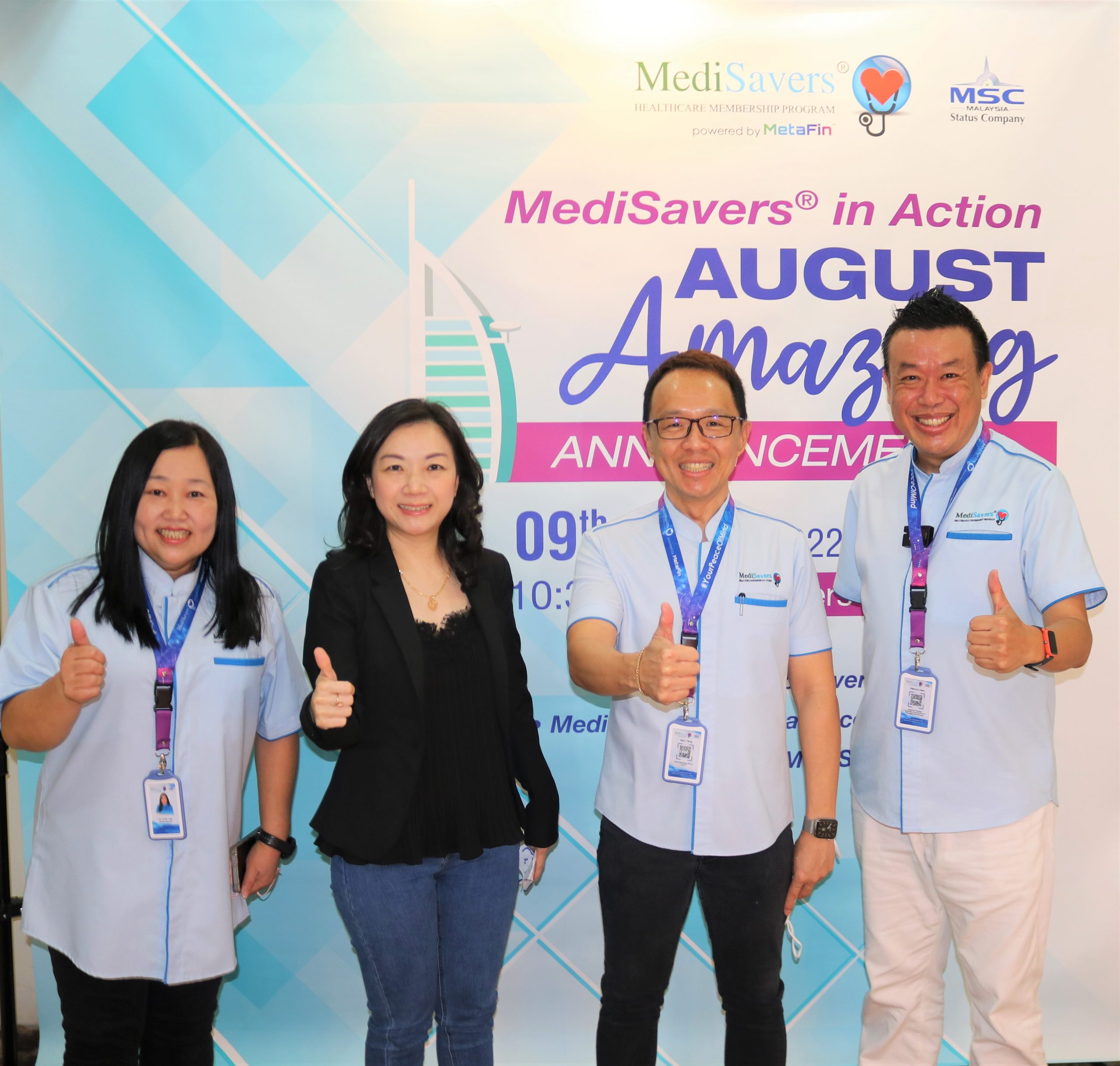 The first part of the Amazing Announcement series was the official launch of MediSavers Prime Life 48 which provide Term Life coverage and Critical Illness protection underwritten by Manulife Insurance (Malaysia) Berhad. Direct application will be submitted via Pathlab Health Management (M) Sdn. Bhd., the corporate agency.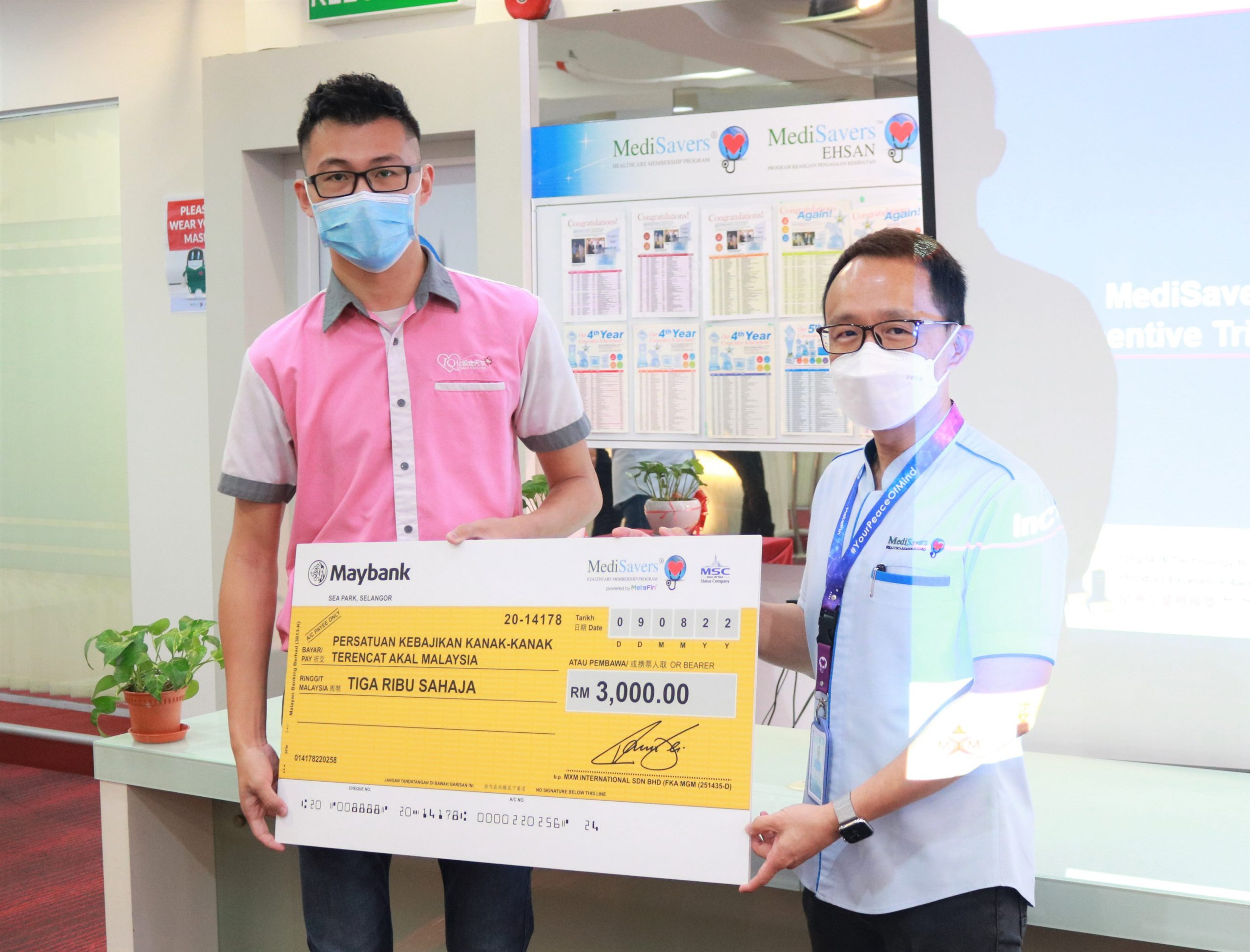 The following session introduced the qualifiers of the MediSavers Advisor Chiangmai Incentive trip 2022 to reward their dedication in serving our members and announce the upcoming Overseas Incentive Trip for 2023 in Dubai. The last announcement invited our COO of MXM International Sdn Bhd, Mr. Sam Tang to present a donation cheque of RM3,000 to Persatuan Kebajikan Kanak-kanak Terencat Akal Malaysia towards the contribution to the underprivileged and their community goals. There was rapturous excitement after concluding the announcement series and for MXM International Sdn. Bhd. (MXM) and Manulife Insurance (Malaysia) Berhad in collaborating on an affordable and comprehensive program offered to the MediSavers network.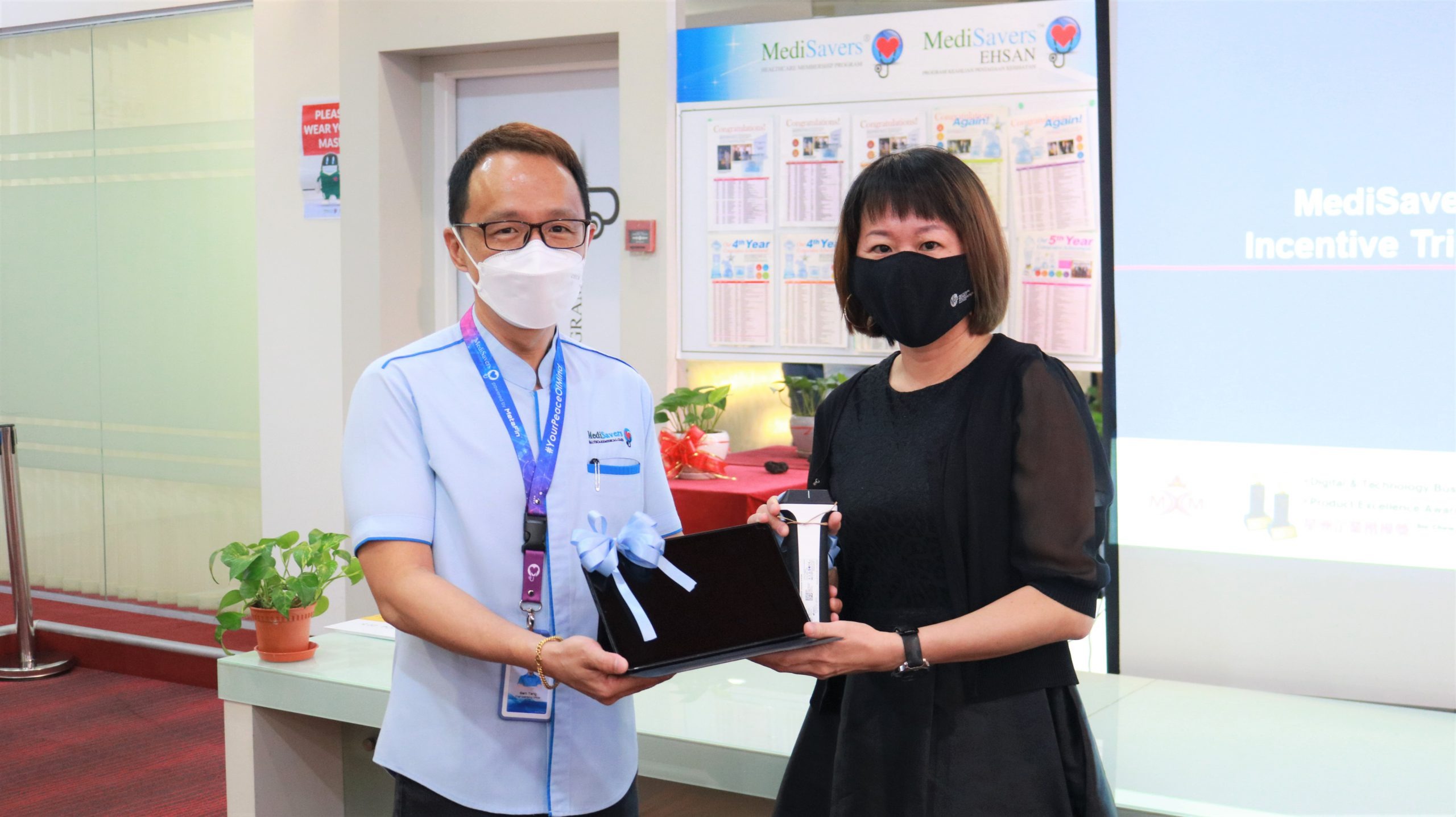 The NKF has been actively creating awareness on the detection of end-stage renal disease (ESRD) which is a state of permanent loss of renal function. In Malaysia, the incidence and prevalence of patients with ESRD has been on a rising trend for the past 20 years. Some of the common issues associated with 'blind' cannulation can lead to serious vascular access complications. The haemodialysis patients require a vascular access which can withstand repeated needle insertions and allow large amounts of blood flow continuously during the treatment. As an act of our continuous support against renal disease, MXM International has donated a RM30,000 set of LeSONO Wireless Handheld Ultrasound Imaging System to NKF . It is believed by both sides that this contribution will help NKF's medical care team in providing better care to haemodialysis patients' lifeline improving vascular access and clinic outcomes of treatment in NKF dialysis centres.
Providing Quality Life and Critical Illness Protection to the MediSavers Network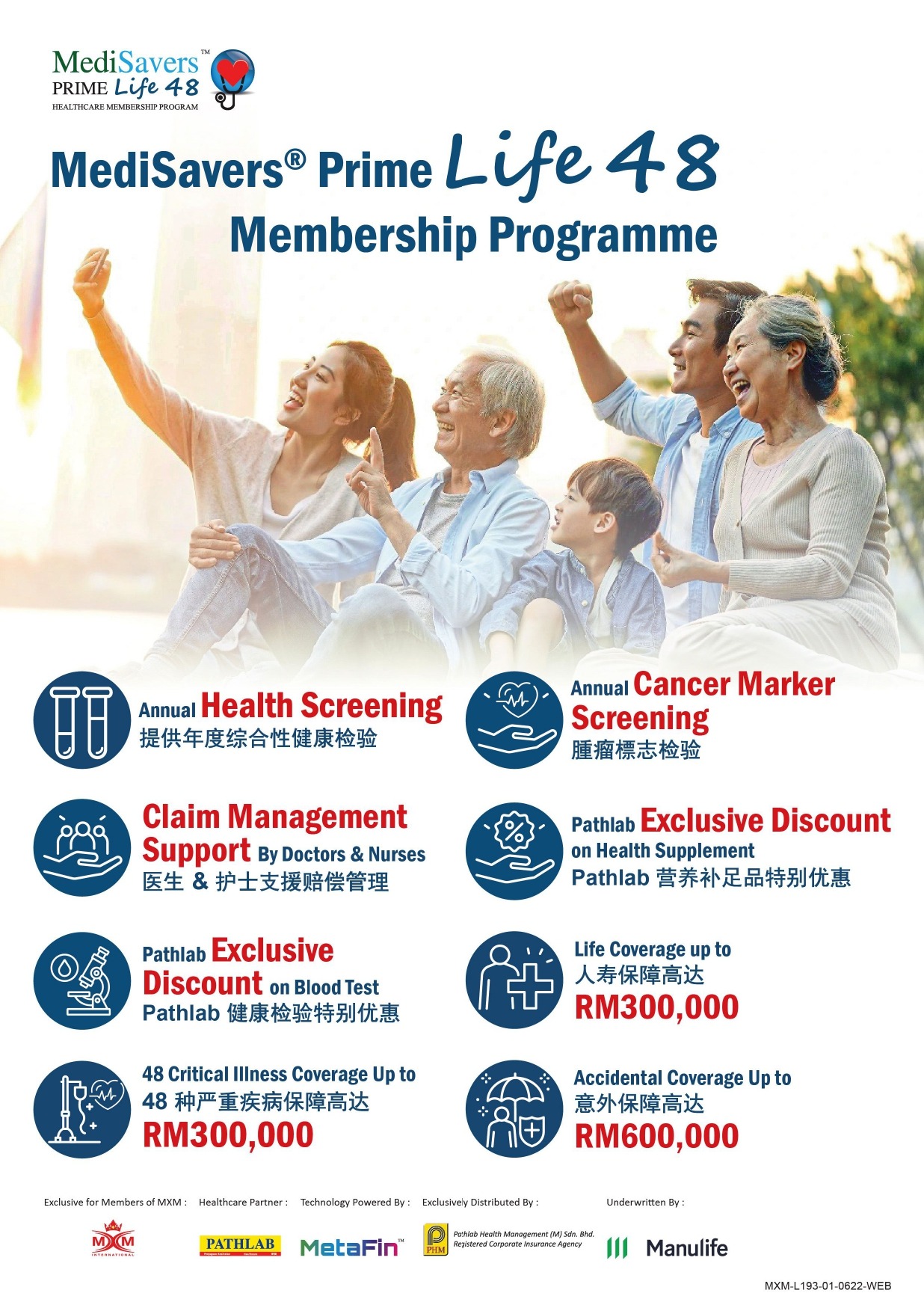 MediSavers is committed to provide a quality and affordable Term Life and Critical Illness Protection for our Health Advisors and members. As announced during the launch event, the MediSavers Prime Life 48 is aimed to provide a conventional prevention program for the health of our members and avoid an extended stay during hospital admission. MediSavers Prima Life 48 is a conventional life protection that covers 48 Critical Illnesses with coverage up to RM300,000, Personal Accident coverage up to RM600,000 and Life Coverage up to RM300,000, provide Annual Health Screening & Annual Cancer Markers and many more benefits starting from RM40* per month.
About MXM International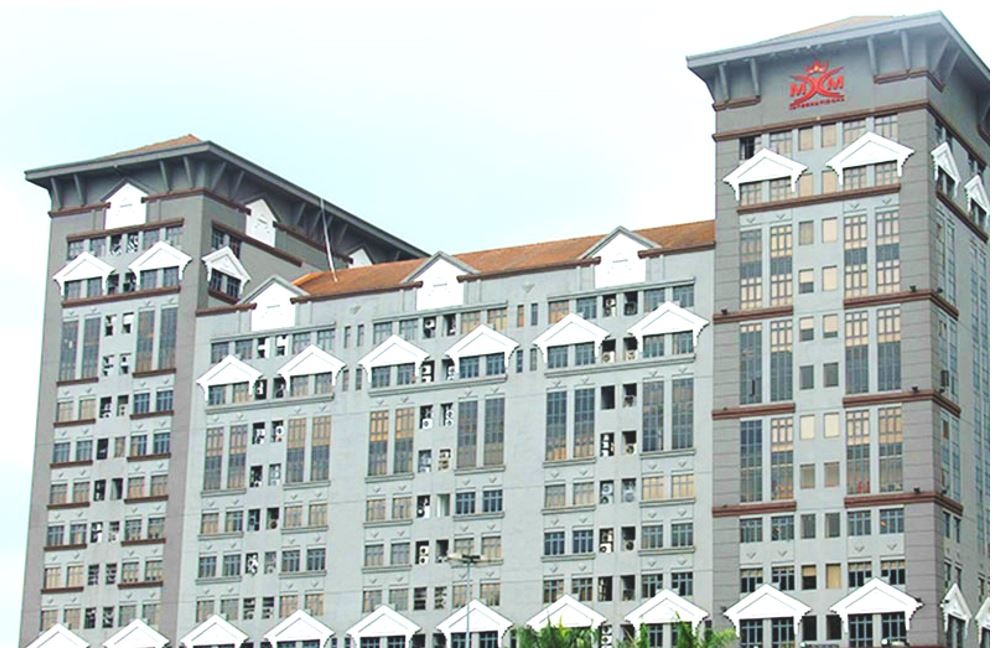 Established since 1998, MXM International Sdn Bhd (MXM), a member of Malaysian Direct Distribution Association (MDDA) has today positioned itself as one of the major players in providing quality healthcare management and medical protection. Being a part of Kam Holdings conglomerate and associate company of PATHLAB, MXM has to-date more than 60,000 members throughout Malaysia and growing under the direction of its Group President and C.E.O. Dato' Marcus Kam.
About MediSavers
MediSavers is the Fintech platform established in 2002 under MXM International. The platform offers a series of innovative products ranging from various categories including healthcare, lifestyle and finance. With its unique Healthcare Membership Program in Malaysia, MediSavers is confident of being the market leader in providing quality and comprehensive healthcare protection for all. As MediSavers is striving to be a technologically-driven platform, the aim is to transition more than 60,000 members on the mobile app to gain better access quality to medical protection.
About Manulife Malaysia
Manulife Malaysia was first established in 1963 as a branch of Bahamas-based British American Insurance Co. It became a public limited company in 1981 and changed its name to British American (Malaysia) Insurance Berhad. In 1994, the company was renamed John Hancock Life Insurance (Berhad) to reflect our association with John Hancock Mutual Life Insurance Company in USA. Later, the Company changed its name to Manulife Insurance (Malaysia) Berhad following the large-scale global merger between Canadian-based Manulife Financial Corporation and US based John Hancock Financial Services, Inc in 2004. Manulife Malaysia underwent a restructuring exercise in 2008 and effective 1st October 2008, Manulife Insurance (Malaysia) Berhad became Manulife Holdings Berhad.Manulife Malaysia is a progressive company, not just in the products and services we offer but also in the way we do business. We aspire to be the trusted and most preferred financial services provider in Malaysia by making our customers' decisions easier and lives better. Subsidiary companies under Manulife Holdings Berhad are Manulife Insurance Berhad, Manulife Investment Management (M) Berhad and Manulife Insurance Labuan Limited.
Manulife Holdings Berhad is listed on the Bursa Malaysia. Its assets under management as at 31 March 2022 is over RM13 billion.
Manulife Holdings Berhad is a member of Canada-based Manulife Financial Corporation, a leading Canadian-based financial services group.